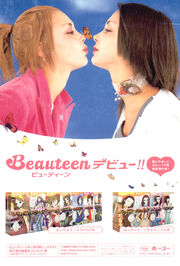 Beauteen
is a line of hair color dyes in Japan. Sometime in or after 2006,
Ai Yazawa
collaborated with Beauteen and designed atleast nineteen covers for their hair color boxes. The dyes are presumably no longer available, since the colors were taken off Beauteen's website around January 2012.
Characters
Edit
Ai Yazawa designed four characters named Rei, Yuu, Hana, and Aya.
[1]
Their profiles were previously displayed on Beauteen's website. Their facial features and hair style mostly stay the same, while their hair color changes depending on the box.
The following colors are mostly shades of brown, however there are some evidence of blonde and black dyes.
メルティモーヴ(MELTY MAUVE)
ロワイヤルモーヴ(ROYAL MAUVE)
フレンチベージュ(FRENCH BEIGE)
ミルクティベージュ(MILK TEA BEIGE)
ミスティアッシュ(MISTY ASH)
ハニーブラウン(HONEY BROWN)
ハニーキャラメリゼ(HONEY CARAMELISSE)
キャラメルブラウン(CARAMEL BROWN)
キャラメルショコラ(CARAMEL CHOCOLAT)
ココアベージュ(COCOA BEIGE)
ナチュラルブラウン(NATURAL BROWN)
カプチーノモカ(CAPPUCCINO MOCHA)
クラシックショコラ(CLASSIC CHOCOLATE)
リッチメープルティ (RICH MAPLE TEA)
アプリコットモカ(APRICOT MOCHA)
アプリコットブラウン(APRICOT BROWN)
ピンクベージュ(PINK BEIGE)
スイートカシス(SWEET CASSIS)
ピーチベリー(PEACH BERRY)
References
Edit
Ad blocker interference detected!
Wikia is a free-to-use site that makes money from advertising. We have a modified experience for viewers using ad blockers

Wikia is not accessible if you've made further modifications. Remove the custom ad blocker rule(s) and the page will load as expected.